Next:
Measurement of Delta G
Up:
Delta G / G
Previous:
Delta G / G
Figure 2.1a shows the gluon momentum fraction

from our Monte Carlo studies of the open charm production by photon-gluon fusion (see par. 3.1.2 of the COMPASS proposal for a description of Monte Carlo event generators) integrated over the quasi-real photon energy spectrum

from 35 to 85 GeV. The input unpolarized gluon distribution is the Duke-Owens set 1.1 and

GeV/c

. Other distributions, like the MRSA, give similar spectra. The

distribution is basically a convolution of the unpolarized gluon distribution with the elementary photon-gluon fusion cross section and the quasi-real photon spectrum. In the

range of 35-85 GeV this distribution is peaked at

, it starts at

and extends over

, with a good coverage in the

region. According to recent parametrizations,

has a maximum in the range of our proposed measurement.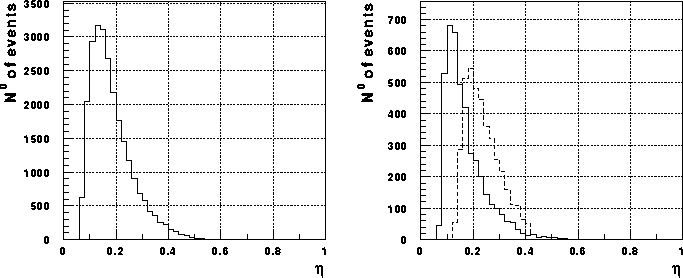 Figure:

distribution of gluons in open charm production: a)

GeV; b) dashed line

GeV, solid line

GeV.

With increasing

,

decreases; by splitting the covered

interval in smaller

bins (or using a higher beam energy as mentioned in the proposal) we cover different

regions. Figure 2.1b shows the

distributions for two different

bins of 30-45 GeV and 75-90 GeV, respectively. It can be seen how the low

bin covers the high

region and is peaked at

while the high

bin covers the low

region and is peaked at

. By splitting our

interval, for instance into 4

bins, the measurement error on the
asymmetry for each single

bin will increase roughly by a factor of 2, each

bin having now a

. Such an analysis will also allow us to determine approximately the

shape in this

range.
It has to be added that the error estimates reported in the proposal were based on the

decays only (with and without

tagging). We can expect a considerable improvement on the
measurement including other D decay channels, giving

smaller than 4 %, and hence a better sensitivity on

.

---
Next:
Measurement of Delta G
Up:
Delta G / G
Previous:
Delta G / G
Lars Schmitt
Wed May 22 16:44:09 METDST 1996