Next:
Jet production
Up:
Measurement of Delta G
Previous:
Measurement of Delta G
The single inclusive prompt-

production is the clearest signal for accessing the gluon polarization. It is dominated by the

-gluon scattering. In order to measure

, both the prompt-

and the away-side jet must be detected in coincidence so that the kinematics of the incoming partons can be approximately calculated, and in particular one must select events with Bjorken

of the up quark larger than 0.2-0.3 so that

is sizable. The gluon spectrum at

GeV,

GeV/c and

is shown in Figure 2.2 [2]. It is peaked around 0.06, starts at 0.03 and doesn't extend much above 0.1. This

range is lower than the one covered in COMPASS, and hence the two experiments will probe the gluon polarization over complementary

intervals. The

scale in COMPASS is set by

and

GeV

; for the high

prompt-

and jet events at RHIC the scale is set by the prompt-

or jet

and

about a few 100 GeV

. A potential uncertainty on the measurement comes from the role of NLO corrections to the prompt-

production as well. These corrections were calculated for the unpolarized case and are not small.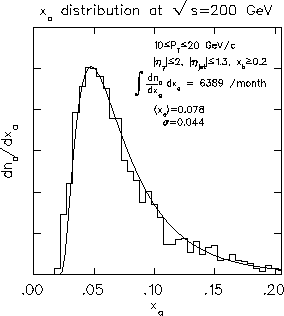 Figure 2.2: The gluon momentum fraction covered in prompt-

production.

There are some discrepancies on the reported accuracies for this measurement, in particular concerning the study of systematic effects. The reported accuracies range from

[3] to

and less [4] at

GeV. The RHIC high luminosity option (

at

GeV, 10 times higher than the original RHIC design luminosity) was assumed for these estimates. These measurement accuracies will lead to a sensitivity on

ranging roughly from 0.15 to 0.05. Also a precise knowledge of

is essential. In the present estimates it was assumed that

at

with infinite precision, while recent SMC results show still large uncertainty on this quantity for

. Taking into account also this uncertainty the sensitivity on

will decrease.
---
Next:
Jet production
Up:
Measurement of Delta G
Previous:
Measurement of Delta G
Lars Schmitt
Wed May 22 16:44:09 METDST 1996